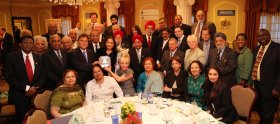 DR. Parveen Chopra, the first Asian-American, awarded prestigious LIBERTY BELL AWARD


Supreme Court justice Hon. Ira Warshawsky, Chair of the Law Day 2010 Committee and Hon. Judge Susan Katz – Richman conferred upon Dr. Praveen Chopra the Liberty Bell Award. This award was given at the Nassau County Bar Associations' annual function focusing on enduring traditions and emerging challenges. It is the largest sub-urban association in America with almost seven thousand very active attorneys at their Domus headquarters in Mineola, New York on April 29, 2010. Dr. Parveen Chopra, a well known American Civil and Human Rights leader, is the First Asian American in the United States to be honored with this prestigious Liberty Bell Award in the presence of over fifty highly accomplished and acclaimed judges from U.S. Federal courts, Supreme Courts, Criminal Courts, Family Courts, County Courts and various District Courts, and hundreds of powerful law firms that attended this function

The prestigious Liberty Bell Award honors an individual or organization whose community service advances and strengthens the American system of freedom under law. Specifically: promoting better understanding of the Constitution and the Bill of Rights; encouraging greater respect for law and the courts; stimulating a deeper sense of individual responsibility so that citizens recognize their duties as well as their rights; contributing to the effective functioning of institutions of government; and for fostering a better understanding and appreciation of the rule of law.

He was the First Indian American on the Eastern Seaboard of the United States who was appointed as Commissioner of Human Rights in 1988 which he served with dynamic leadership for over 20 years including Vice Chairman from 1996 onward and Acting Chair from 2004 to 2008 enforcing the laws and mitigating effects of discrimination on the basis of age, sex, race, color, creed, marital status, national origin, disability and arrest and conviction in the matters of employment, housing and public conveniences. He was involved in organizing seminars educating thousands of Presidents of private organizations or heads of departments of public organizations so that job and housing discrimination was minimized.

Dr. Chopra led the Human Rights Commission to prepare rules of procedure for discrimination cases in housing matters to be followed by the judges and also lead the team to interview and select Housing Court Judges.

Dr Chopra also had the rare distinction of working as Commissioner of Planning simultaneously from 1996 to 2002 improving the quality of life of 1.3 million Americans on the issues covering land use, zoning, density, environment, transportation, population dynamics, urban planning and economy in open hearings to public. He was part of the team that prepared the master plan for the development of Nassau County, one of the top five richest counties of America, for the next two decades based on his vision, experiences and input from citizenry based on hundreds of town hall meetings. Planning Commission also advised legislature on important matters.

During his presidency of Federation of Indian Associations (1987-1988) in New York, New Jersey and Connecticut, Indian community became the target of racial violence in Jersey City. He mobilized Indian Americans effectively and lead protests outside Hudson County Court, outside Police Department, lead the march through the City to the Public Library Hall where Mayor of Jersey City Mayor Cucci and his wife joined in the protest to show solidarity with the Indian community and to demand justice for the victims of Indian community. He also led the group to meet the Attorney General in Washington D.C. who helped to send F.B.I. to assist and increase the local enforcement by police that mitigated the racial violence.

He also led the Indian students, engineers and professors before the entire Equal Employment Opportunity Commission and Asst. Secretary of Education in Washington D.C. to protest against the quota system for admission to Ivy League Schools, and glass ceilings faced by engineers and professors at that time.

Dr. Chopra successfully organized the Jackson Heights Merchants Association as well as Flushing Merchants Association to work with the Police Department, Queens Borough President and New York City Mayor to reduce the crime and improve the neighborhood conditions in Queens, New York.

On Long Island, Dr. Chopra worked with the Spanish Community on the English Plus campaign successfully to retain English as a Second Language in schools and thwarted attempts to pass such a bill in the Congress. He has also worked with African American community on civil rights and helped Indian community to develop understanding and relationships with the African American Community by helping to raise funds for scholarships for poor and needy students to go to college under the leadership of Dr. Martin Luther King Committee of which he is the Executive Board Member.

Dr. Parveen Chopra has also worked, in the Nassau chapter, since 2006, as a Director of the New York Civil Liberties Union which protects and defends the civil rights of people in America.

Dr. Chopra is also the Founder/President of Asian American Coalition USA Inc.since 1988, which includes leaders and groups of fourteen Asian countries. He also founded the Asian American Coalition USA Hall of Fame which honors outstanding Americans for their significant contributions to improve the American public life.

Hon. Supreme Court Justice Ira Warshawsky said, "it is evident that your dedication to community service and championing of civil rights for so many groups make you the kind of person for whom such an award is intended."

While accepting the Liberty Bell Award Dr. Parveen Chopra said that he was humbled and thankful to the Nassau County Bar Association Executive Committee and the many learned, well known and acclaimed Judges and experts of jurisprudence who were present there. He said your prestigious award has its roots in the Declaration of Independence whose chief author was President Thomas Jefferson who on July 4, 1776 declared, "We hold these truths to be self evident. That all men are created equal; that they are endowed by their creator with certain inalienable rights; that among these are life, liberty and pursuit of happiness." It was President Woodrow Wilson who said on July 4, 1914, at the beginning of world war I that "Liberty does not consist in mere declarations of the rights of man. It consists in the translation of those declarations into definite actions." Dr. Chopra said it is you the honorable judges and police officers with the support of members of the bar that uphold the civil rights of a common man in America on a daily basis. It is because of this liberty, freedom of action, right to speech, right of assembly, right not to be discriminated based on age, sex, race, color, creed, marital status, national origin and disability as well as right to equality of opportunity that has made this nation of ours a magnet country in the world.

Dr. Chopra said the Lady Liberty statute on Ellis Island has welcomed wave after wave of immigrants to the United States. She tells the world that give me your poor, tired, destitute and huddled masses and I will give them the opportunities so that they can be all they want to be. Each wave of immigrants has also brought certain jems with them. Irish laid down the infra-structure of America, Italians changed the skyline of America, Israelis have helped to develop the banking system, mass media and educational system of America. Newer wave of Asians are enriching the country because they believe in education, family values and they save and invest in America. We have better future ahead of us.

He said he would not be standing there if it was not for the former Nassau County Executive Hon. Tom Gulotta who gave him the first commissionership twenty three years ago. It has been a long road since then to assimilate Indians into mainstream. Mahatma Gandhi taught India that through non-violent means you can shake this world. You do not have to chop down the head of any one with whom you disagree. You can shake this world in a gentle way through non-violent protests. Great leaders like Dr. Martin Luther King in America, Mr. Nelson Mandela in South Africa, Mr. Leech Walesa in Poland have gained freedom and liberty for their people through non violent movements and now Dalai Lama is trying to gain liberty for his people in Tibet while in exile. All of them were awarded Noble Peace Prizes and proved to the world that liberty is some thing of great value to die for. It can bring greatness to you and your country together.

Earlier Hon. Judge Susan Katz Richman praised the work done by Dr. Parveen Chopra and said that she has never come across a person who has done so much for others in his life. His bio data and achievements are astounding. Dr. Chopra has five graduate degrees with honors and top ranks from prestigious universities and an MBA and a Ph.D. in Business Administration from the City University of New York and has taught over five thousand BBA and MBA and doctoral students at quality oriented Hofstra, LIU, Fordham, Rutgers, Kean and Stevens Institute of Technology. He was admitted to the Academy of Management USA in 1976.

Hon. Judge Susan Katz Richman also praised the work done by Mrs. Usha Chopra who was President of India Association of Long Island Inc., did mountaineering and rock climbing courses and as Deputy Leader of the India's first All Girls Expedition to Mount Weisshorn in Himalayas scaled the mountain successfully in 1967. Both she and her husband have taken part in marathons. During the September 11, 2001 crises at the World Trade Center site she provided social work service to the relatives of victims for which Governor George Pataki awarded her a medal of distinguished service. She was awarded the Best Social Worker of the Year Award by the New York State Commissioner of Mental Health where she worked for almost thirty years.

Last year Dr. Parveen Chopra was conferred another prestigious Haywood Burns Memorial Award for 2009, at the Marriott Hotel, Manhattan, New York. Governor of the State of New York Hon. David A. Paterson said, "I join to congratulate the distinguished individual you have chosen tonight – someone who upholds the ideals and values exemplified by the respected namesake of your prestigious award. A passionate advocate of civil and human rights, Dr. Parveen Chopra has himself earned respect as a voice for those who are economically and socially oppressed, disenfranchised and underrepresented. Dr. Chopra is likewise recognized for his professional excellence as an educator and his tireless work as an activist who fights to achieve equality for people of all backgrounds."

For his decades of human and civil rights activism in America, Dr. Chopra has previously been conferred with several distinguished honors including the Ellis Island Medal of Honor in 2005( a distinction he shares with six United States Presidents, noble laureates, generals and Chief Justice of the U.S. Supreme Court), Dr. Martin Luther King Award for 2005 and distinguished community service award by the One Hundred Blackmen Inc. in 2003, among others.

Other outstanding dignitaries present included: US Federal Court Justicee Honorable Arthur Spatt; US Federal Court (Magistrate) Justice Hon. Michael Orenstein; Chief Supervising Judge of Supreme Court Hon. Anthony Morano; Chief Supervising Judge of Criminal Courts Hon. William Donnino; Supreme Court Appellate Division Justice Honorable Ruth Balkin; Supreme court Appellate Division Justice Hon. Peter Skelos ; Supreme court Appellate Division Justice Hon. Leonard Austin; Honorable Judge Denise Sher of the Court of Claims and past president of the New York State Judges Association; Supreme Court Justice Hon. Frank Gullota; Supreme Court justice Hon. Michelle Woodard; Supreme Court Justice Hon. Bruce Cozzins; Supreme Court Justice Hon. Susan Kluewer; Supreme Court Justice of Nassau County Hon. Daniel Palmieri; Supreme Court Justice Hon. Claire Weinberg; Supervising Family Court Judge Honorable John Marks; Honorable Justice Steven Jaeger of County Court; Honorable Justice Anthony Paradiso of District Court; Honorable Justice Gary Knoble of District Court; Honorable Justice Marcia Sikowitz of Civil Court; Honorable Judge Beth Pessala ; Honorable Justice Frank Yannelli; Honorable Justice Elaine Jackson Stack

Some of the outstanding attorneys who also represented some of the largest and well known law firms in the nation included: Ronald M. Terenzi ( Former Counsel to the New York City Mayor); A. Thomas Levin ( Senior Partner – Meyer, Suozzi, English & Klein); William M. Savino Managing Partner (Rivkin Radler) – Former Mayor of Old Brookville; Martha Krisel - Chief Deputy County Attorney; Jim Pedowitz -Partner at Berkman, Henoch, Peterson & Peddy & Legal Author; Jon N. Santemma Partner at Jaspan Schlessinger represented powerful law firms that higher thousands of attorneys.

Many other civil and community leaders who attended included: Mr. Christopher Murray, President New York Civil Liberties Union and Director of State Board of NYCLU; Mr. Julius Pearse, Founder/President Dr. Martin Luther King Committee and his wife Mrs. Joysetta Pearse; Dr. and
Reverend Reginald Tuggle, an advisor to President Obama, who has opened over thirty ministries and is also the Vice President of Nassau Community College with his wife Mrs. Evette Tuggle; Detective John Nedd, chair of Dr. M.L.K. Awards Committee; Mr. Dean Bennett, former Director of Minority Affairs; former principle Ms. Wilma Tootle.

Many Indian community leaders who attended the function included Mr. and Mrs. Kailash and Mina Sharma, President Nargis Dutt Memorial Foundation; Mr. Ishwar Singh Bindra, who has set up a million dollar chair on Sikh religion and a biannual award of fifty thousand dollars, both at the Hofstra University; Prof. Rakesh Gupta, Permanent Dean of the School of Business at Adelphi University; Dr. Mahesh Chandra, Chairman at Hofstra University; representing Hindu Center were Mr. Giri Chhabra President, Mr. & Mrs. Jagdish Awasthi Secretary, and Mr. & Mrs. Avtar Sharma Joint Secretary and Mrs. Damayanti Goyal Vice President; Mr. Animesh Goenka, National President, Asian Indians in America; representing Asian American Coalition USA were Mr. Chris Ram Secretary and Mr. Brij Gulati and Mr. Dilip Chohan Directors; Former President of Sikh Forum and GOPIO President Mr. & Mrs. Darshan and Lovleen Bagga; Indian American Forum Chairman Mrs. Indu Jaiswal and Director and Sikh community leader Mr. Mohinder Singh Taneja; Sikh community leader Mr. C.S.Khanpuri; activists: Mr. Rajbir Sekhon, Dr. Aman Chopra, Mr. Manoj Bhatt and Mr. Neyem Vohra; and well known Indian jeweler Mr. & Mrs. Vijay Verma; and Jessica Taneja Esq.